This little Fearless Home series is quickly becoming one of my favorite things. It is also becoming very time consuming. When I scroll through the #FearlessHome feed on Instagram, I tend to surface no earlier than an hour later because I can't pull myself away from all the eye candy. #rabbithole
Here are a few favorites from the #FearlessHome feed this past month.
This bedroom from Glamour Nest. 
There is nothing about this space that I don't love. I'm usually drawn to more color saturated spaces, but this vintage-glam pink and white bedroom has stolen my heart. Follow Glamour Nest on Instagram here and visit her blog here.
This hallway from Kara Evans.
The color and pattern in this hallway is beautiful. I never would have thought to combine that teal rug with the green credenza and wouldn't have looked twice at that wallpaper, but together, they shine. Follow Kara Evans on Instagram here.
This living room from Shavonda Gardner.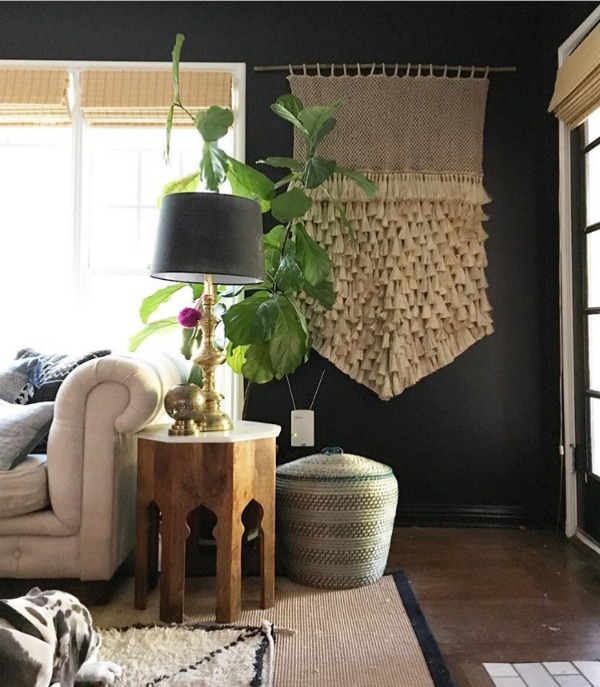 I have always loved Shavonda's bold take on style. Her living room combines traditional with boho with vintage and anything else in between that she loves. Follow Shavonda on Instagram here and visit her blog here.
This bedroom from Love Renovations.
This bedroom really caught my eye with all that color. Love those cobalt walls with the light wood tone against it and that bedding pairs perfectly with the walls. Follow Love Renovations on Instagram here and visit her blog here.
This dining room from Our Gentle Madness. 
That chandelier. They took one huge chandelier and split it into four different chandeliers. #sheergenius Follow Our Gentle Madness on Instagram here.
Visit the rest of the hosts for more Fearless Home inspiration and don't forget to tag your Instagram photos with #FearlessHome and the hosts (@raintinroof, @brittkingery, @cassie_bustamante, @ariellesgoldman, and @redlilocks) for your chance to be featured as well!