So…….
You may have noticed that I left you in the very capable and amazing hands of some pretty stellar bloggers last week, that's because I was soaking up the sun and sipping on a Cosmo beside the pool while on vacation!
Here are their goods and a couple of my goods from the past week: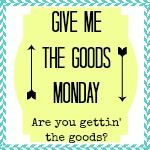 Ok now, Give Me The Goods!